Banner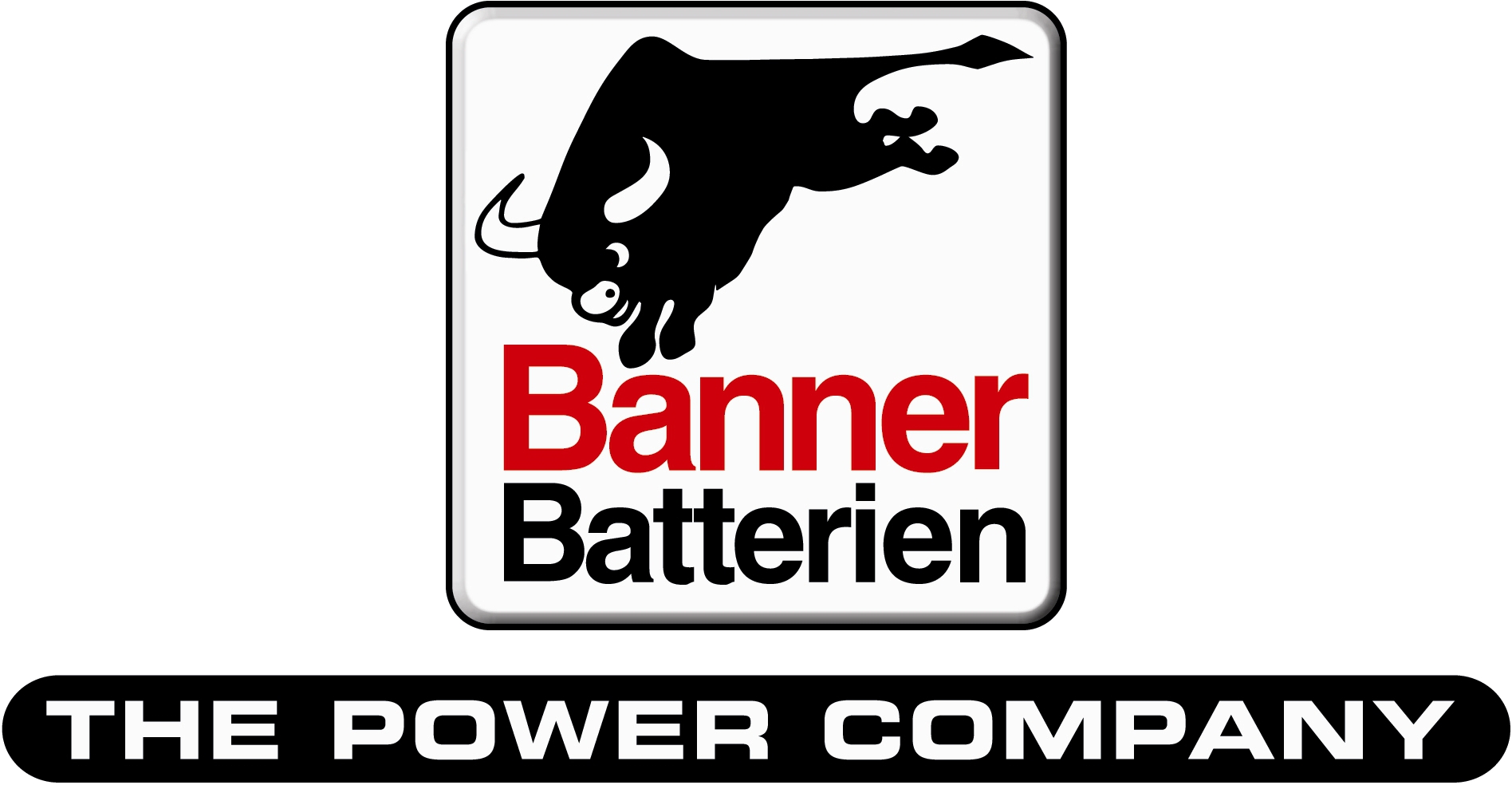 As Austria's only battery producer, Banner is recognised as numbering among the international branch leaders and supplies many important automotive manufacturers such as Audi, BMW, VW, Chrysler, Porsche and Mercedes with batteries for first fitting. Banner products have proven themselves both in the cold of northern Scandinavia and the heat of Africa.

The Banner philosophy
The Banner philosophy embodies technical perfection and optimum service. This involves absolute reliability with regard to scheduling and delivery, as well as a high level of environmental awareness. Innovative thinking guarantees top quality products, which speak for themselves through operational reliability and a long service life.
Lp.

Nr. Kat.

[Ah]

[EN]

polarization
length
width
height
RUNNING BULL AGM

1

560 01

60

640

0

242

175

190

2

570 01

70

720

0

278

175

190

3

580 01

80

800

0

315

175

190

4

592 01

92

850

0

354

175

190

5

605 01

105

950

0

394

175

190

RUNNING BULL EFB

6

560 00

60

560

0

241

175

190

7

565 00

65

550

0

230

171

223

9

570 00

70

660

0

278

175

190

10

595 00

95

760

0

302

170

222

RUNNING BULL BackUp

11

509 01 / AUX 09

9

120

1

150

88

106

12

514 00 / AUX 14

14

200

1

150

88

145

UNI BULL

13

50 100

47

390

0,1

210

175

175

14

50 200

58

450

0,1

241

175

175

15

50 300

69

520

0,1

241

175

190

16

50 500

80

700

0,1

278

175

190

POWER BULL PROfessional

17

P4840

48

400

0

210

175

190

18

P6340

63

600

0

241

175

190

19

P7540

75

680

0

278

175

190

20

P8440

84

700

0

315

175

190

21

P10040

100

800

0

354

175

190

POWER BULL

22

P4409

44

420

0

210

175

175

23

P5003

50

450

0

210

175

190

24

P5519

55

480

0

241

175

175

25

P6205

62

540

0

241

175

175

26

P6219

62

510

0

241

175

190

27

P7209

72

660

0

278

175

175

28

P7412

74

680

0

278

175

190

29

P8014

80

700

0

315

175

175

30

P8820

88

700

0

354

175

175

31

P9533

95

760

0

354

175

190

32

P11042

110

850

0

394

175

190

POWER BULL (Japan Cars)

33

P4025

40

300

0

187

137

204

34

P4026

40

300

0

187

127

204

35

P4027

40

300

1

187

127

204

36

P4523

45

360

0

238

129

203

37

P4524

45

360

1

238

129

203

38

P6068

60

420

0

233

173

203

39

P6069

60

420

1

233

173

203

40

P7024

70

570

0

260

174

200

41

P7029

70

570

1

260

174

200

42

P9504

95

680

0

303

175

203

43

P9505

95

680

1

303

175

203

STARTING BULL

44

542 08

42

330

0

175

175

190

45

544 09

44

360

0

210

175

175

46

555 19

55

450

0

241

175

175

47

560 09

60

480

0

241

175

175

48

562 19

62

480

0

241

175

190

49

570 44

70

640

0

278

175

175

50

572 12

72

640

0

278

175

190

51

580 14

80

660

0

315

175

175

52

588 20

88

680

0

354

175

175

53

588 34

88

680

0

354

175

190

54

595 33

95

720

0

354

175

190

ENERGY BULL

55

955 01

60

-

0

241

175

190

56

956 01

80

-

0

278

175

190

57

957 51

100

-

0

354

175

190

58

959 01

115

-

0

344

172

230

59

959 01

180

-

3

514

223

220

BUFFALO BULL SHD

60

SHD 610 40

110

760

3

514

175

210

61

SHD 635 44

135

900

3

514

175

210

62

SHD 640 35

140

800

3

514

189

220

63

SHD 670 33

170

1000

3

514

218

210

64

SHD 680 32

180

1000

3

514

223

220

65

SHD 725 11

225

1150

3

517

273

240

BUFFALO BULL SHD PROfessional

66

PRO 645 03

145

800

3

514

189

195

67

PRO 680 08

180

1000

3

514

223

195

68

PRO 725 03

225

1150

3

517

273

226